Custom Hybrid Presentation & Collaboration Experiences
Promote engagement & deliver collaboration equity in any hybrid environment
Every team, every project is better with Alleo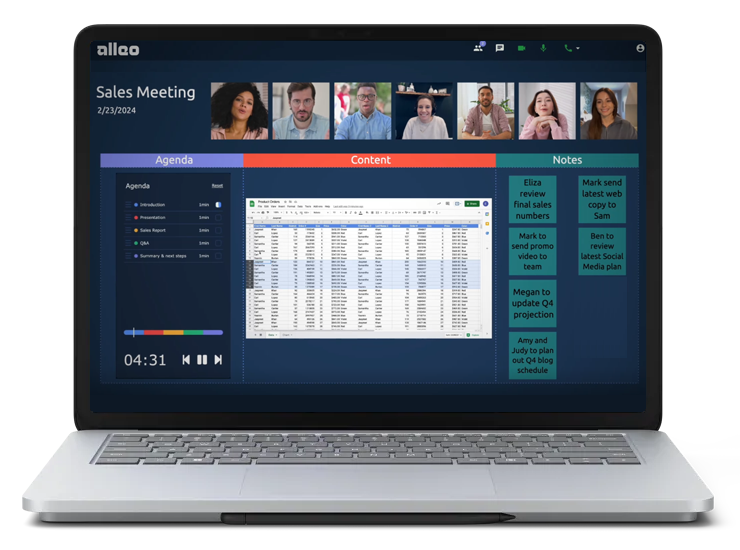 The amount a US employer can save annually for each worker that is remote 2-3 days per week.
Global Workplace Analytics, "The Business Case for Remote Work"
The estimated number of jobs in the US that can be done remotely. That's 54,000,000 jobs!
National Bureau of Economic Research, "How Many Jobs Can Be Done At Home", 2020
The percent of meetings by 2024 where a virtual visual canvas becomes the center of the experience.
Gartner, "2021 Magic Quadrant for Meeting Solutions"
Alleo Customer
Alleo enables me to produce virtual presentation experiences that incorporate multimedia content and short interactive exercises - all in one easy-to-use platform.
Alleo Partner
The platform is providing our customers with unprecedented levels of situational awareness.
Fawzi Benmessaoud, PhD
Alleo makes the learning experience collaborative and personalized. As a result, it's more engaging, fun, and productive for the students.
Tony Scelzo
Alleo has been a single source of truth for our team to plan and build on. We are more efficient, and barriers to working remotely seem to have vanished.
Try it out Alleo now! Our Team would be happy to show you Alleo and answer your questions.
Join the Alleo Preferred Partner Program
Take your high-value room design to the next level with Alleo. Enable your customers to create purpose-built hybrid experiences that allow them to easily control and engage with content across multiple displays and devices.
Experience Centers
Briefing Centers
Innovation Centers
Training Centers